Basement Finishing Ideas and Options
Shiretown is a local leader in finished basement systems. Below you'll find some of our own completed projects, samples, images, and some information that might help you decide on what you'd like your space to grow into. From carpets to solid surfaces, we have spill-proof and other innovative products that fit your needs.
Finished Basement Systems

Did you know you can use finished basement systems to transform your basement into a cozy and useful area of your house? Your entire family can enjoy a warm, comfortable entertainment room or you can transform it into a home gym. If you like, you can transform it into a quiet room where your kids can do their homework or your in-laws can spend the night. You can even transform your basement into a home office. In short, basement finishing is a great way to increase the overall value of your home as well as add more living space to your home.
Unlike other home projects such as bathroom remodeling or kitchen remodeling, basement finishing can be relatively unintrusive because it happens in a part of the house that is not used every day. Apart from adding more living space to your home, a finished basement system can create a healthier environment, increase comfort and save energy. You should know that finished basements and basement finishing systems are two different things. Basement finishing systems place a lot of emphasis on the "system" part. It uses building materials specifically designed to make your basement waterproof. Almost everything in basement finishing systems is pre-designed and in some situations, pre-cut.
Checkout Shiretown's Lounge-Worthy Basements
 Need Remodeling Inspiration?
Shiretown is a Basement Remodel Leader
Learn more about Carpeting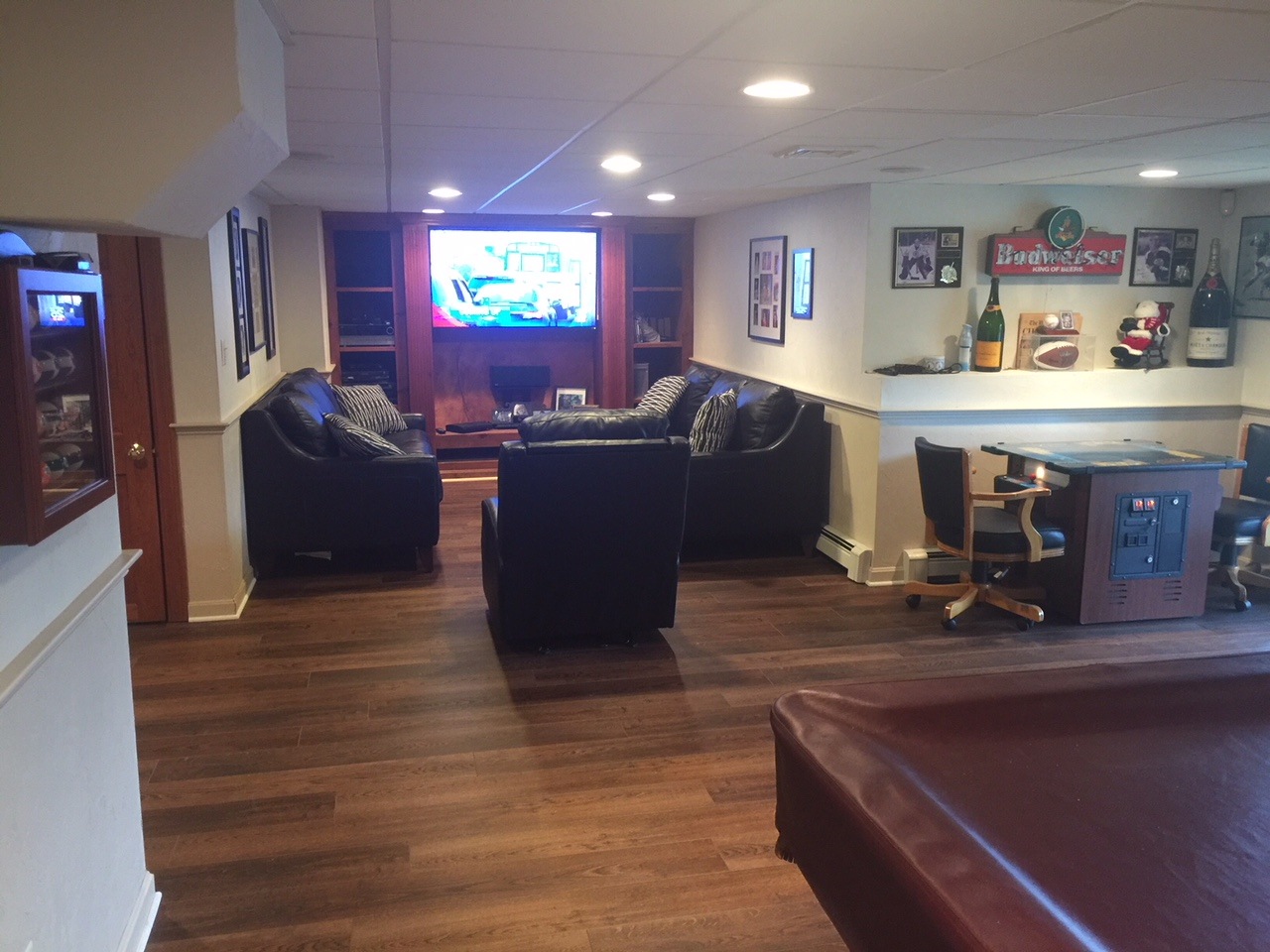 Why Should You Hire Us To Provide Finished Basement Systems?
Shiretown Home Improvements in Plymouth uses the finest quality basement remodeling materials. We use tiles and basement ceilings that are designed to resist sagging and are resistant to mold growth. We use basement floor tile systems finished in a variety of tiled and carpeted designs. We also use tiles that come in an unfinished style that we can creatively tweak to suit your personal style. We use basement flooring systems that combine aesthetics with durability, waterproof nature, and mold resistance.
We ensure that we add basement floor tiles that prevent moisture from seeping into your carpet. This not only prevents mold but also prevents the musty smell associated with carpets laid directly on concrete floors. We also install windows that will make your basement energy efficient while at the same time adding beauty and light to your finished basement. We understand the importance of remodeling your basement with only materials that are moisture-resistant. It doesn't matter if you are in Plymouth, Duxbury, Marshfield, or anywhere else on the South Shore. Our contractors can come to your home and evaluate what needs to be done to your basement free of charge. In addition, they can answer any questions that you have in mind.
Contact us today for a Free No Obligation Consultation and Estimate.
Before pictures from a project:
After pictures from the same project, as well as others!